FairPay Zone - Conceptual Diagram
This diagram is intended to depict some aspects of the FairPay pricing process and how it enables dynamically adaptive hybrids of free and paid sales.
First,we have the conventional model of free access to some limited set or amount of products/services, and the "pay wall" that limits access and forces users to pay set prices for usage beyond that limited set or amount. (There may be varying levels or tiers of pricing behind the pay wall for premium services, or varying usage levels.)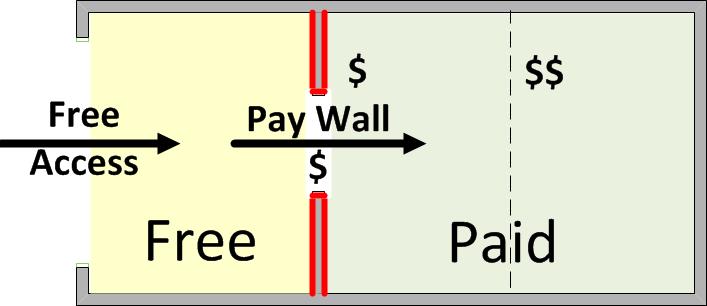 With FairPay, that model would presumably remain, but be supplemented by the availability of a FairPay zone, as a complementary process: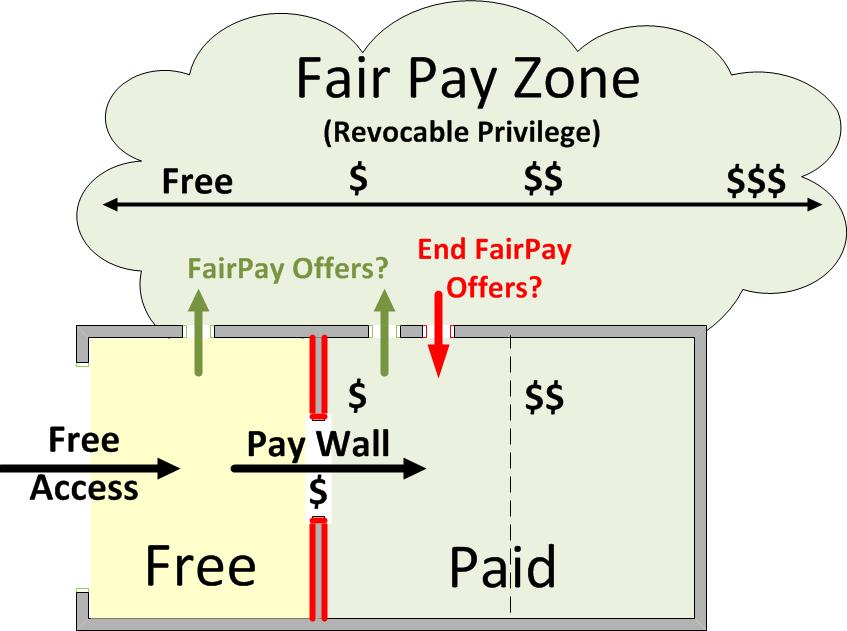 This FairPay Zone is shown above the conventional pay wall to suggest that users are permitted to rise above the pay wall on a provisional basis, as long as he maintains an acceptable FairPay reputation for fairness in their payments, as judged by the seller. Instead of passing through a rigid pay wall, users may be invited to enter the FairPay Zone. The offer to do so provides the ground rules for Fair Pay What You Want pricing, and the understanding that that freedom is a limited privilege that will be revoked if the results are not satisfactory to the seller (with consideration to any reasons for pricing that might seem unfair). Within the FairPay Zone, there is a flexible range of prices corresponding to usage and value received. That range is wider and more adaptable than fixed price tiers.
Thus the buyer who is invited into the FairPay Zone can enjoy the freedom to float above the pay wall in an ongoing dialog with the seller, but if his fairness does not justify that privilege, he may find himself bounced back down into the pay wall of "take it or leave it" pricing.
Seeing the full power of FairPay, and how it works, takes a step outside conventional thinking.
...Please contact us for free consultation
...on how it can work for your business: fairpay@teleshuttle.com
Teleshuttle is working on a pro-bono basis with industry and academic partners on research, trials, and applications of FairPay.